About the 2019 Bahamas Relief
On September 5, Captain Bradford Carlton posted on Facebook that we intended to take our 55' Nordhavn trawler, MV Adventure, to Green Turtle Cay for Hurricane Dorian relief and was looking for contacts. After that, he received hundreds of phone calls, emails and texts which led to great connections for our effort. We had decided to come to Green Turtle Cay because we (Brad and Lorraine) had been to the island before and loved the people we had met. We were contacted by the United Aid Foundation offering funding support for our initial set of supplies.
Captain Brad and Lorraine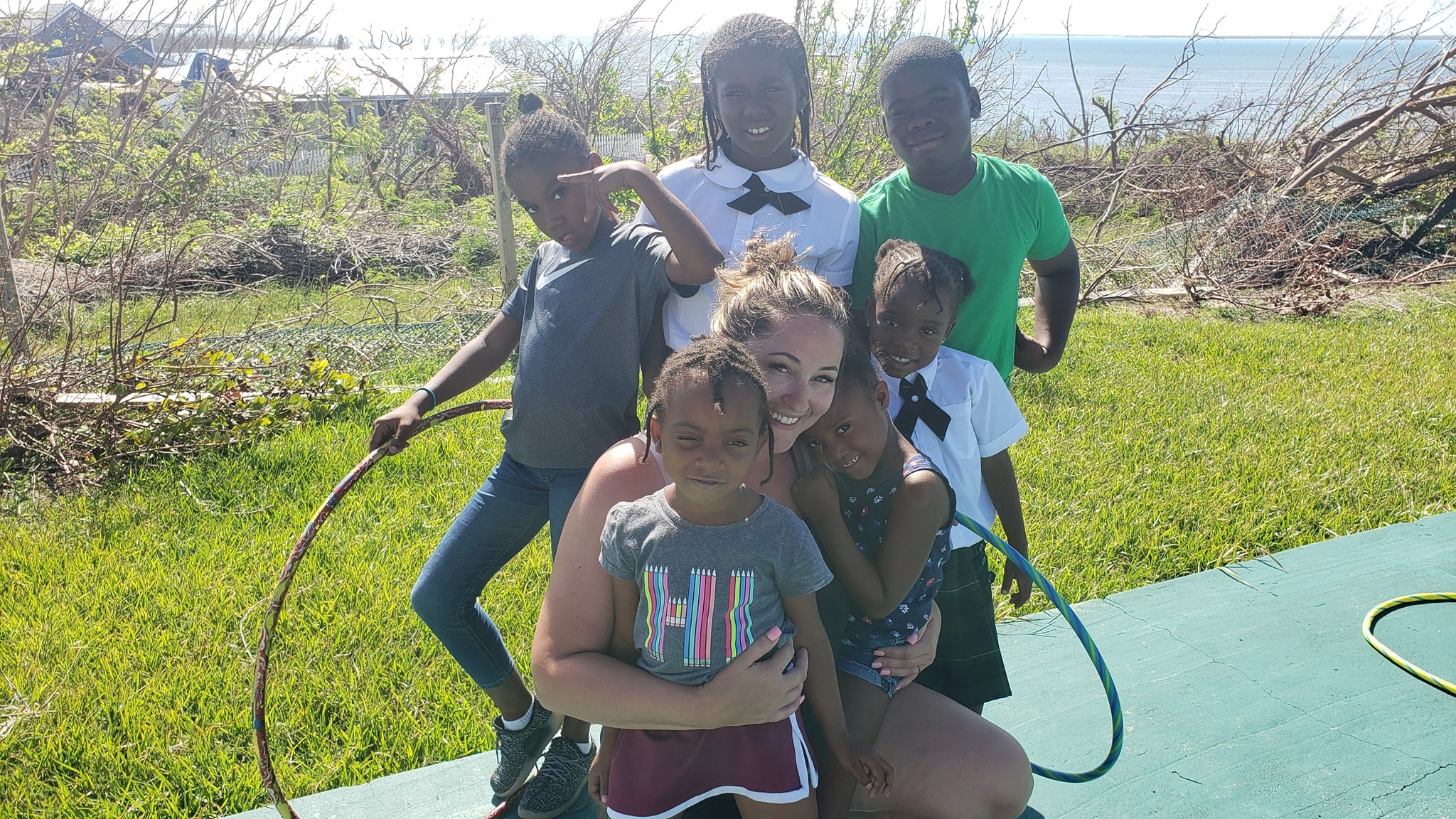 After making our connections, we quickly started prepping and stocking Adventure with over 2,000 pounds of frozen meats in 5 freezers, 2000 pounds of non- perishable foods, grills, propane, rice cookers, pressure cookers, many generators and other items with the intention of setting up a food kitchen. We also had items donated by the United Aid Foundation including 24 large tents, tarps, inflatable beds and solar lights. In total we brought almost 10,000 lbs. of relief supplies. We were loaded to the brim!
We left Old Port Cove Marina in North Palm Beach on Saturday night, September 14 around midnight and arrived at Green Turtle Cay on Sunday around 8PM. Onboard were Captain Brad and Lorraine Carlton (owners of MV Adventure), Kahlil Ali ( good friend from Cape Coral), Sarah Monahan (who we met 2 days prior when she helped load the boat) plus 3 people from the United Aid Foundation – John Alex (President of the foundation) Cenovio Villa, and Demetrio Aparicio. When we arrived at Green Turtle Cay, John challenged Brad to serve food the next day.
Our first order of business was to find a location to set up a food kitchen. We found a house (church rectory) next to a church in New Plymouth (the main town on Green Turtle Cay) which fit the bill but needed to be cleaned up and also needed a new roof. We spent the day cleaning out lots of debris from within and outside the building, cleaning walls and floors, and constructing grills and other kitchen equipment. The team from the United Aid Foundation plus many volunteers helped make this happen. Remarkably, we were able to serve a meal that night to over 250 people! We had met John's challenge from the night before. The kitchen was initially manned by Sarah (chef extraordinaire) and Kahlil who set up the infrastructure for the kitchen (which is still evolving). The kitchen is now called the Adventure Cafe.
"Excalibur", a 55' Cheoy Lee, with Dan Guenther, his sister, Suni Petersen, Jay Halsted and Devon Laxton arrived 12 hours behind us with 2 more freezers of food for us, plus tons of relief supplies for New Plymouth. The next day Dan and Suni set up a daycare and play area for the children on a lot next to the food kitchen. Jay and Devon stepped in to help us with a variety of tasks to help support the kitchen. Jay was also invaluable with helping make contacts on the island.
Since we arrived we have continued to serve two meals a day to about 250 people per meal on Green Turtle Cay. The local residents became involved and are now a key component in cooking and running the kitchen. We have received food shipments from many other friends by planes, helicopter and boats to keep it all going. We now have a new roof on our kitchen. Thank you to Giselle and the Green Turtle Foundation for getting this done. We also now have picnic tables and a sink donated by Brian, the owner of Sundowners Restaurant which was destroyed. We are still operating on multiple generators and have no running water. As of today, we will have onsite water storage by filling tanks from MV Adventure which has water makers capable of making 2,000 gallons per day. We will also plumb in a sink so we don't have to do dishes in buckets. We are also receiving a large generator and ice maker from Anchored Support Foundation next week and we will rewire the kitchen. Ice is like gold on this island.
In addition to the meals we are serving at Green Turtle Cay, we also provide food to a community on Treasure Cay on a daily basis. Yesterday, we also brought food, drinks and other supplies to Coopers Town on Great Abaco Island (we spent a few hours clearing the motors on a center console after this trip due to the amount of sea weed that was sucked up in the motors, unfortunately this basin was the only safe place to dock).
We have now been here for two weeks. During this time, we have seen progress in clean up on the island and a little bit of a return to some type of normalcy. The people have embraced us all and are overwhelmed by the support from us and all the other volunteers who have arrived on Green Turtle Cay. The Adventure Cafe and the Green Turtle Play House area have become the nucleus for a type of community center. Building supplies are starting to arrive by barge so some houses are starting to be repaired. However, many are not repairable and will have to be rebuilt from scratch. Much more support over a very long period of time will be needed to get Green Turtle Cay and other Bahamian islands back on their feet after this hurricane.
We have crew members coming in and out. Chris and Gene Belle from the United Aid Foundation were here for a few days. Sarah had to leave but Marissa Parriman arrived yesterday to help with the kitchen and to document our efforts through photography and social media. Our good friends (and previous Nordhavn owners) Bradley Rosenberg and Kathy Clark will be arriving next weekend to help.
If anyone wants to come over by boat to bring food or related supplies, please contact us via Facebook and we will tell you what is needed on the island. It is not a good idea for boats to come with random supplies because the island can't handle it at this time. It is very safe here. We did not encounter any debris or other hazards when coming over by boat.
The Bahamas, Before and After Hurricane Dorian
Parts of the Bahamas were wiped out as Hurricane Dorian lashed the country's northern Grand Bahama and Abaco Islands this week.
Aerial images taken Tuesday and Wednesday over Marsh Harbor, the largest town on Great Abaco Island, give a first look at the large-scale damage there.
We have had help from so many people. Please excuse us if you are not listed here.
At Team M/V Adventure, we are asking that all monetary gifts to be submitted via our donation page – These funds will we used for logistics, food supply, stock and miscellaneous parts and materials.